Ensuring quality education to promote Social Inclusion
KIRAN Society
We work with KIRAN Society to help children with different abilities and from marginalised communities for quality education in Varanasi district of Uttar Pradesh. The CSO engage with schools to create model inclusive infrastructures and to adopt inclusive teaching learning materials so that physically challenged children feel encouraged to attend the school without any difficulties. KIRAN has promoted model schools to facilitate this learning in five schools. Support services such as, audio-visual assistive devices, medical rehabilitation camps etc. are extended in particular to children with hearing impairment and other physical disabilities to help them to perform their routine activities independently as well as enhance their enrolment in schools.
(Read more on Kiran https://kiranvillage.org/)
MOUNTAIN CHILDREN'S FOUNDATION (MCF)
We engage with MCF to promote inclusive and quality education for children through child led -community institutions and their interventions in Dehradun district of Uttarakhand. MCF imparts education to children on sanitation and hygiene maintenance, climate change effects and plantation of trees in and around the schools and reduce drop outs.
(Read more on MCF https://mcfglobal.ngo/)
Ensuring livelihood enhancement and skill development to promote Economic Inclusion
APPROPRIATE TECHNOLOGY INDIA (ATI)
Our work with ATI focuses on economic enhancement of women and youth through livelihood interventions, vocational skills development and career counselling programs in  Chamoli district of Uttarakhand. Women are trained on diverse income generating activities such as honey collection, dairy farming and seri-culture, and their involvement facilitated across the value chain for sustainable backward and forward linkages.
(Read more on ATI https://www.atindia.org/)
MOUNT VALLEY DEVELOPMENT ASSOCIATION  (MVDA)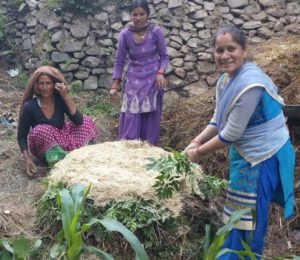 We along with MVDA  work for socio-economic empowerment of women through climate resilient livelihoods and improved access to government services in Tehri Garhwal district of Uttarakhand. Women are capacitated to adopt climate resilient farming practices and are made aware about climate adaptation and mitigation strategies. Our work through trainings on improved agriculture practices, helping women access government entitlements and facilitating market linkages work helps in bridging gap on gender grounds existing around skills and market engagement of women farmers.
(Read more on MVDA http://mvda.org.in/)
THE HIMALAYA TRUST  (THT)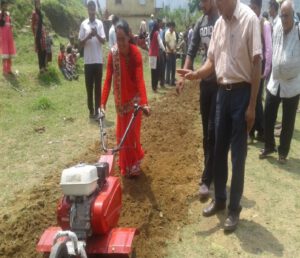 We engage with THT for empowering women and youth through skilled-based economic activities, addressing issues of gender biases and promoting climate change adaptation in Bagheshwar district of Uttarakhand. Our work strengthens Forest Councils engaged in conservation and management of natural resources. Besides, enhancing leadership skills among women and youth and economic enhancement activities contributes to the process of advancing village development goals.
(Read more on THT https://tht93.wordpress.com/)
SARBA SHANTI AYOG (SSA)
We engage with SSA to promote economic empowerment of marginalized youth and women by building their capacities and making markets work for small producers using Fair Trade principles as a tool for inclusive and sustainable development in different parts of the country. Producer groups are imparted extensive training on knowledge inputs and resources in areas of design, technical know-how, and extended networking and market access support.
(Read more on SSA https://sashaworld.com)
SOCIAL AND RESOURCE DEVELOPMENT FUND (SARD)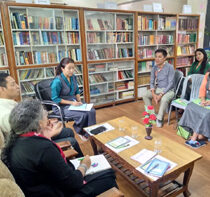 We helped SARD to build internal capacity to work effectively for the education, health and livelihoods of Tibetan refugee communities in 2020. Institutional development facilitated through varied strategies such as, capacity needs assessment and developing enhancement plan, need based trainings and coachings.
(Read more on SARD https://sardfund.org/)
MAXIMISING EMPLOYMENT TO SERVE THE HANDICAPPED (MESH)
We collaborate with MESH  to advance economic empowerment of marginalized producers with disabilities and affected by leprosy through imparting trainings on advanced skills and technical know-how,  value addition, awareness on market and market access  and product diversification. Emphasis is given on promoting sustainability of these producer's groups by strengthening Fair Trade principles in their operation through building their democratic values, good governance and strong internal systems. This work is being carried out with producer organizations in different parts of the country.
(Read more on MESH https://www.mesh.org.in/)